We know all our Rhino Africa guests are looking forward to travelling again, and we're excited to say we'll soon be welcoming our guests back to East Africa, on your next well-deserved holiday, as East Africa is Travel Ready!
We are delighted to confirm that Kenya, Tanzania and Rwanda will be ready to welcome guests again from 1 August 2020, and we are taking every precaution to give you total peace of mind when you travel with Rhino Africa. Our rigorous checking of our partner hotels, lodges and logistical partners ensures you can travel safely with us.
Kenya Leads the Way in Safe Travel
We are excited that Kenya has been listed among the 80 global destinations certified and authorised to use the "World Travel and Tourism Council Safe Travel Stamp". This approval allows travellers to recognise Kenya as a safe destination on re-opening and recognises Kenya's adoption of the global health and hygiene standardised protocols. 
Countries across Southern African also note that the guidelines put in place by the World Travel and Tourism Council are aimed at preventing the spread of Covid-19, during your African Safari Holiday. These protocols ensure a safe experience for guests through operational and staff preparedness and rebuilding trust and confidence that carefully allow for the reopening and restart of businesses in the tourism sector across Southern and East Africa.
Why Travel To East Africa now? 
One of the world's most enticing natural playgrounds, East Africa, has it all! Wide open spaces are the perfect place to reconnect with nature and restore those travel-deprived souls. So while we patiently wait for Southern Africa to reopen, you can make East Africa your one-stop Africa destination and get the opportunity to traverse everywhere from Ngorongoro Crater to the Masai Mara and Serengeti. East Africa is also home to the Great Wildebeest Migration as well as the roof of Africa, Kilimanjaro, and is a wonder-filled bucket list wilderness escape!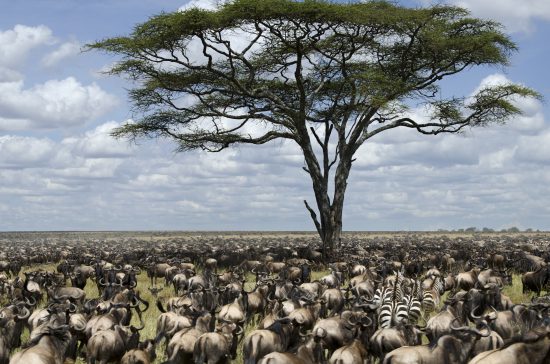 Time spent in nature and the outdoors is known to reduce anxiety, improve focus, and deepen family connection; benefits we could all do with in abundance post Covid-19. As we prepare for Southern Africa to open up once more, we are happy to tell you all that we are Travel Ready and can't wait to welcome you all back again soon. Some things may have changed a bit since you last travelled, and we know the travel landscape has definitely shifted somewhat, but we are ready to reconnect you with the magic of Africa, whenever the time is right for you!
Booking with Rhino Africa Means More 
With the world wide web presenting a multitude of different travel options to East Africa, we at Rhino Africa take pride in treating you exactly as we would if you were our friends or family. We love developing down to earth, honest relationships and believe in building a lifelong relationship with our guests. Booking with Rhino Africa makes you our guest as it's "your holiday" and not your "file" and your name rather than your reservation number! It also means being able to travel with a conscience; knowing that your trip to Africa directly contributes to the protection of her endangered species and uplifts her most vulnerable communities. Rhino Africa partners with some of the most inspiring and dedicated people who are committed to creating real social change on a daily basis.
We're passionate about this continent, its wildlife, its people and its huge potential and we take pride in being experts in African Travel. Between us we've travelled, worked, enjoyed and experienced most of the wonders in Africa. Let us start planning your East Africa Holiday today!